Alex's Note: Yes, it's been quiet on the blog front for quite some time now. But after our return, life barely gave us a week to breathe before it all got crazy again. Yet we can't just leave the ending hanging in the balance, so onward to the conclusive entries!
Return to Sydney
LUCY
I'm pleased to report that the luggage key for the Indian Pacific was eventually found and once we were reunited with our luggage the search for finding a hostel for a night begun. It then ended shortly afterwards as our first stop, the Railway Square YHA (as the name suggests, located right next to the station)  had a couple of nights availability. So we settled in, enjoying a 5-bed dorm all to ourselves, and had a think about what we do over our last few weeks.
Whilst reaquainting ourselves with Darling Harbour we popped into the Tourist Info centre for a few ideas and Alex spotted information about the tall ship, "James Craig". Originally from Sunderland, England, she had a long and busy working life before being abandoned in Tasmania in 1932. After sitting there for forty years, she was rescued and lovingly restored by the Sydney Heritage Fleet. It took 20 years and lots of labour (mostly from volunteers) but she is now in magnificent working order and is the only ship of her kind to regularly make trips out to the ocean. As Alex has wanted to travel on such a ship for quite some time now it seemed a most fitting activity, and what a ship to experience going under the Harbour bridge in. We only did a day sail but you could get involved as much, or as little, as you liked and they provided lunch and drinks for the day. Alex was available to help with anything and I believe he was told to be careful as if he carried on being so helpful he might end up on the crew! I helped out every now and again, mostly heaving on the ropes to move the sails. At one point when I went to offer a hand, the captain of the James Craig tapped me on the shoulder and asked my name. He then told the guys already on the ropes who I was and that I was here to sort them out, hehe. Well, I'm not sure it was my sorting but together we got the sails where they needed to be. Very satisfying. The weather was beautiful throughout the day and added to it being thoroughly enjoyable, however I have got a bit ahead of myself as we sailed the James Craig on Saturday 10th but I've neglected to tell you what we did on Friday 9th.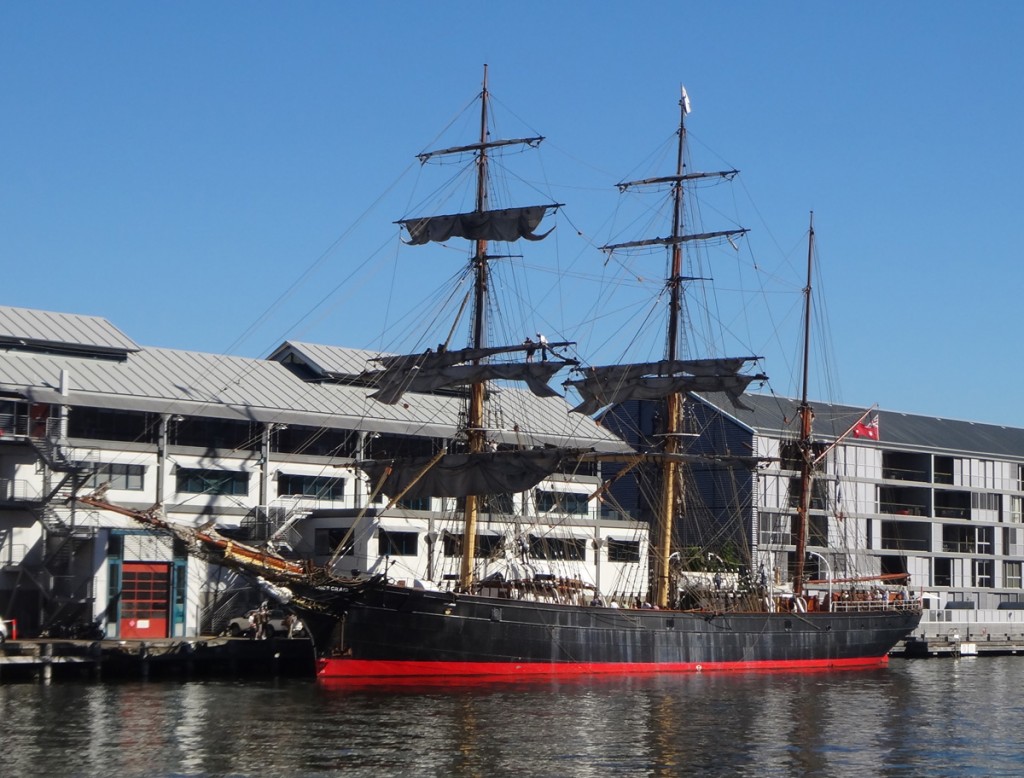 During the day on Friday 9th we met up with another familiar face, Toby, who we had first met in Airlie Beach was in Sydney for just the one day before catching his flight home. We had moved to a hostel across the road (no availability at the YHA over the weekend) which has a cafe at the front so there we were sitting enjoying our breakfast. I had sent a text to Toby to see where he was when just a short time later he appeared right next to us. We then proceeded to spend the rest of the day moseying around Sydney city, slurping on Slurpees and on the hunt for cuddly Australian animals (no not literally, the stuffed toy counterparts). As evening began to set in we parted ways, Toby was meeting up with another friend and Alex and I had a date with a bridge.
We ended up actually having to rush a bit between leaving Toby and getting to the BridgeClimb in time as it took longer to walk back from the Circular Quay area than we remembered – but fear not, we arrived at the bridge with just enough time to peruse the gift shop! Climbing the Bridge was an unforgettable experience that we both felt was well worth it. The harnesses and jumpsuits, in addition to the industrial surroundings, made it all quite different and exciting. Though we couldn't take our cameras up (due to potential murder by falling camera), we still had a beautiful picture to remember it by.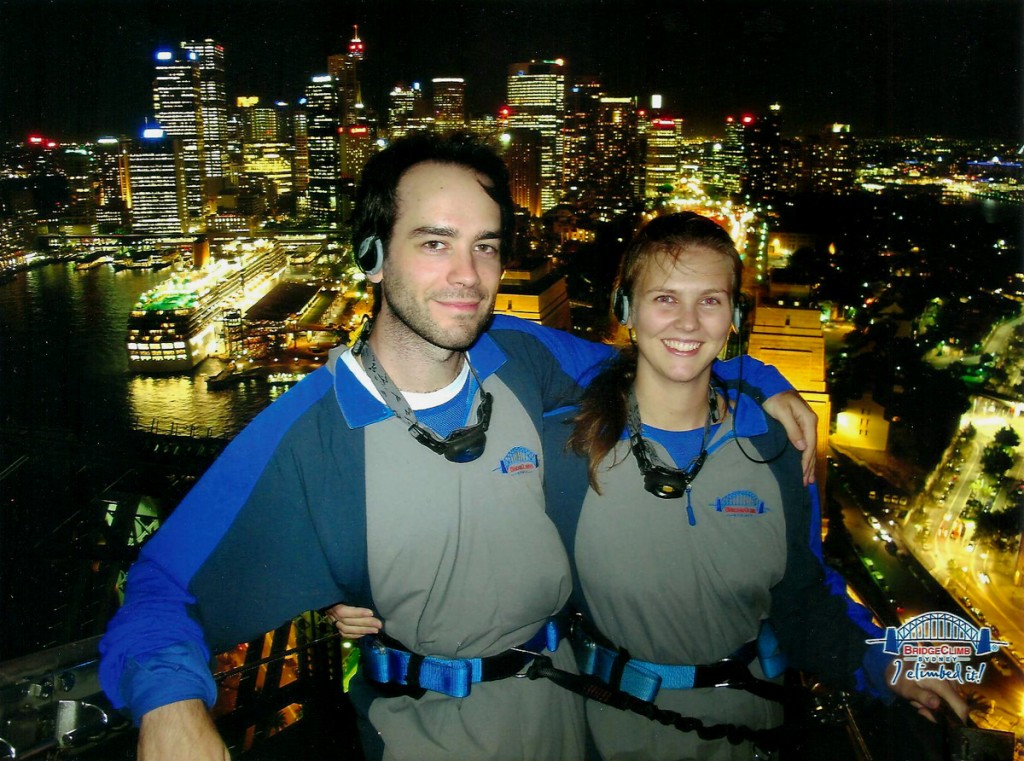 We had a couple of weeks in the Sydney area so there was plenty of time to check out another nearby must-see: Katoomba and the Blue Mountains.