We arrived at Airlie Beach in the early hours of the morning. We'd originally intended to visit Mackay for half of the time we eventually booked to Airlie, but there seemed to only be one hostel in the entire town and it didn't allow check-ins after 10pm. As the only Greyhound with a sensible transit time arrived in the middle of the night, we decided to just go straight up to Airlie. It was not a decision we would regret.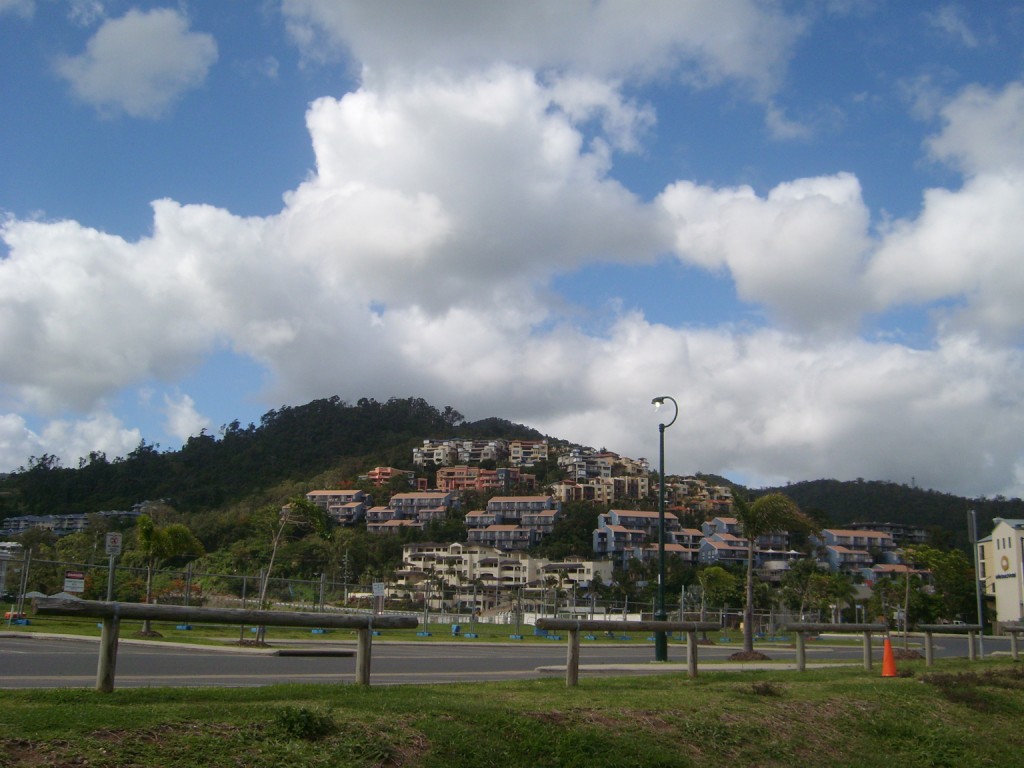 On our first morning we look a look around the YHA to get familiar with our surroundings. The hostel was putting on pancakes this evening, at $10 a head. Sign me the heck up for that! Then we got to know the vicinity of Airlie Beach by walking in the direction of the supermarket, Coles; which ended up being an afternoon adventure across mountains, rivers and beaches (apart from there were no rivers and not really any mountains either) in the oppressive midday heat of mid-Queensland. By the time we'd picked up the shopping, the sky was threatening downpour. We had no idea when or where the rumoured bus to Coles and back could be caught from and were lumbered with heavy shopping. There was that unspoken notion again that, y'know, maybe we could walk this. I then pointed out that we should have learned our lesson by now and suggested a taxi. Lucy agreed and we took a ride from the rank outside back to the hostel. No sooner had we got in and unpacked, a heavy thunderstorm exploded above, raindrops hammering every horizontal surface. We also noted a couple of guys outside that had decided to enjoy the storm in the superconductive vat of the hostel swimming pool. They are probably mental, I thought. As it turns out, I didn't know the half of it!
The Crepe/Pancake dinner was a veritable feast of decadence and choice. The chef (we later learned was singular, plus his one helper) was doing the flipping and frying while the table outside was covered in just about every conceivable substance you can shove into/onto/under a pancake. We had sugar, lemon, cinnamon, banana, chocolate, magic chocolate, ham, pineapple, mushroom, cream, tuna… I'm not even exaggerating for once. Because the actual pancakes came as a trickle and there were a good dozen people or so, each appearance of fresh ones was accompanied by a mad dash for the serving table. In the meantime we had soft drinks and Goon (boxed wine) and a long picnic table to get to know everyone. We met two fellas who had hitchhiked up most of the way from their home in Sydney: Adam and Patrick; admittedly mostly thanks to the way Adam was introducing himself to everyone that had a hand to shake in his endlessly outgoing kinda way. We would later discover that they were the two nutters in the pool during the storm earlier that day! We also met Toby, the British-born, Italian-living cook; who emerged later, after the lack of supply had become a lack of demand and a stack had built up on the serving plate. There was Tim, legendary YHA lad and bard of the court. Many of the faces we met would become our good friends for the time we were there. I ended up as the only one other than Pat to take up Adam's "lets hit the pool" suggestion, and the night was eloquently spent drinking goon in the pool, way past its closing time. Classy!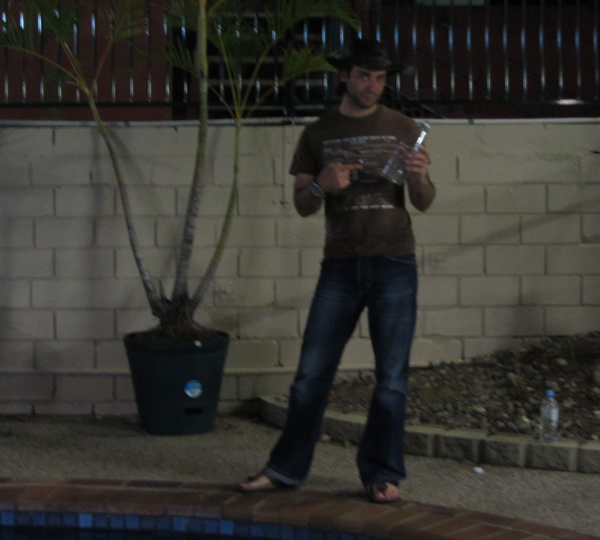 It was a good little pool, though. We spent the majority of the following day in it, with Adam, Toby, Lucy and Tomas. Patrick was nursing sunburn due to, what Adam desribed as, his "bleached half-Polish skin". Little did I know that a similar fate awaited me the following day; the perils of swimming all day in sunshine! There were experiments with Multiple-Pool-Bombing photography, which sounds like something involving U2 Spy Planes but was actually no more fancy than taking a picture of us all hitting water at the same time. We invented a sport that involved three empty VB cans on the side of the pool arranged like skittles, that must be knocked over by a wave from thowing a water-filled juice bottle just short of them. Said juice bottles also made for adventurous attempts at underwater breathing apparatus. In all, we knew what we were doing. Put to work in a government facility we could probably have cured cancer.
The next day we decided to mix it up a little and head to the Shagoon*. On the way we decided to 'pool' our resources and buy an aquatic entertainment device: both Adam and myself suggested a giant beachball but we ended up with a rather sensible little rubber ball. At the lagoon, there was some throw and catch but it got old fairly quick. Pat and Adam swiftly headed back to the shop for the supersize ball. After waiting for seven years for them to inflate it with enough air for it to be classed a gas giant, they excitedly paddled across to the middle of the lagoon, while awkwardly holding the ball. One of them lifted it from the water and made to throw it. Somehow unforseen by everybody present, the inevitable happened and the wind caught its massive and almost weightless bulk, sending it sliding across the water at a rate that would be tough to run after, let alone swim in pursuit of. Cries of "WILSON!" between uncontrollable laughter that paralysed attempts to follow, we were helpless as the ball met the side of the lagoon; whereupon the wind bumped it up onto the grass and it continued its journey, until we finally caught up with it somewhere near the Appalachian Mountains.
We also tried whirlpooling, something I shall save going into for later; while Tim gave us the insightful gem: "Hey guys: if you breathe out, you sink!". All this malarky in the nuclear blazes of the outdoor sun took its toll on me, much as it had on poor Patrick. My shoulders were a little on the reddened side, but my head was the worst. And so I took to wearing my hat just about everywhere; even in the pool. As it turned out, this trait would continue.
Other things that went in the pool that normally wouldn't: cameras. Adam had just recently got himself a very shiny new Sony TX10 underwater camera. To test this out, Toby decided to chuck it in the pool; which made for interesting video of a spinning view followed by sinking bubbles and, eventually, Adam swimming down to grab it. The clarity and smoothness of its video impressed us both. I should like to have one myself, I thought…
The YHA was a basic enough hostel but it had a nice feel to it. It felt as though the stuff that was important was there, while the stuff that was fancy and not really important was mostly not there. One perk they did do was the alternating regular meal night, for which Toby was cook as I said. Given that he had been living in Italy, a lasagna could only be a good thing so we were quickly signed up. Adam and Pat were his helpers, in return learning the recipe for the Napolitana style that he was making. Pat recorded the method in the form of a carefully dictated recipe, while Adam's notes were in the form of an intricate diagram of lasagna layers reminiscent of a geological survey. Saying that, I'm quite sure he will be able to understand it, too.
A rather pretty French girl had been trying to teach Adam some French at one point. During the meal, having bought some more goon when ingredient-collecting with Toby, Adam asked how to say "That was a good choice." Her reply of "Cette une bon choise" was repeated in gradually warping ways until it became almost a war-cry of just BOOM-SCHWA! Which is just so much fun to say, you don't even need to hear the oblique injoke to appreciate it. Also, I will never forget how hard Pat laughed when Adam pursuaded her to recite, complete with French accent, the Seinfeld inspired phrase-of-the-moment "The worst, Jerry. The worst."
I cannot (and won't attempt) to recite every detail and antic of the Airlie Beach group during those few days, but I still feel they were some of the best we've had. There were fascinating discussions (Toby, Tomas, Andes and I on the subject of religion was an interesting one, ending in me staying up with Andes till 5am so he wouldn't miss his early-morning bus to Cairns… again),  Guitar serenades (Tim's many talents beyond aquatic science) and Lindy Hop dancing lessons to Caravan Palace on my Walkman being blasted out the hostel's speakers (Toby talks about it in detail here). But Adam and Pat went onto a boat cruise on the Friday, others began to leave and then on Sunday, Lucy and I were up bright and early and off toward our Greyhound pickup to Townsville.
And so the Fellowship had ended. But the adventure was still only beginning!
Airlie Beach YHA rating: 82/100
(*) The term, as explained by Adam, owed to the number of couples that tend to be somewhat indiscreet in its waters. From that point on, shagoon was the Proper Word.