We left Alice Springs the morning after our Rock tour ended, we were headed to Perth, WA. The plane journey was nice and easy, though it felt strange not having to show your passport for the flight, particularly as it would take three and a bit hours, but that's just how crazy big Australia is.
We had arranged to stay in Perth YHA for a night before embarking on our mini-adventure down the South-West coast. It was alright, nothing to shout about. It looked like it could be great but there was just a bit of a 'feeling', perhaps influenced by our roommates having had their food stolen from the fridge – doesn't fill you with confidence. It was situated beside the main rail lines into Perth, between McIver and Perth station. The trains were interesting to watch, not all that noisy either (as several Trip Advisor reviews suggested).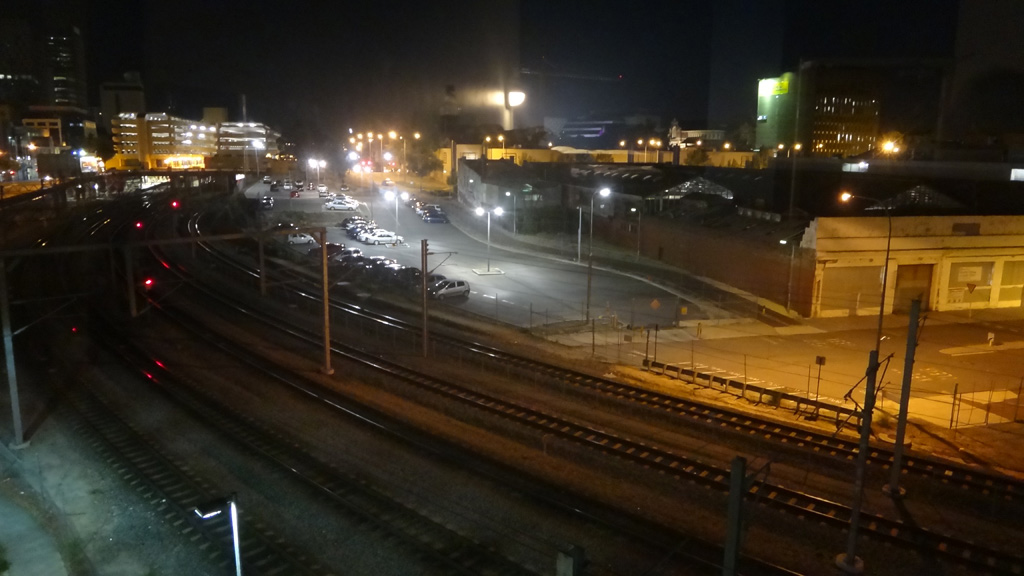 Anyway, we departed the next morning excited at the prospect of getting our hire car for the journey south. It wasn't just any car, it was a Mini Cooper convertible. We had decided to splash out as the difference between that car and a bog-standard one over such a short period of time was negligible. We had booked the car when we were back in Cairns so we had been looking forward to this for about a month, so you can imagine our disappointment when we arrived at Hertz to collect our fun car only to be told that it was still being driven over and shouldn't be long… oh and also it's a hardtop, is that a problem? … Err… yes that is a problem. How is it possible for the website to think it's available, then for the person who we booked it with over the phone to think it's available and then a month later no-one seems to know that it even exists in the fleet. It's beyond comprehension. Hertz is a car company, how can they seem so blasé about losing a car? And why didn't you call us before we turned up so we could have had time to decide what we wanted to do? Because you don't have a number for us… right… except you should do because I know it was given over the phone. Le sigh. Anyway I was gutted, it was quite unexpected, however gutted doesn't cover how Alex felt. In fact the words Alex would like to use to describe Hertz car company are not deemed appropriate for this blog. However at your own risk you may raise the subject with him.
The biggest problem I had was that we were not in a position to look about for the cheapest option of just a basic manual car. We had accommodation and things booked down South and needed to get on the road, so our only option was to accept a cheaper alternative car from Hertz. It was a white Toyota Corolla, which became known as Vlad and he turned out to be a very nice car; it was just the fact we forced to use Hertz or risk being stuck for transport. Once on the road again, Ellie took up her ususal position upfront on the dash and Alex took his usual position of the drivers seat. We had 5 days planned to explore the south west: to Albany and back again, stopping at Margaret River, Walpole and Bunbury.
A few hours along the coast we reached Margaret River. By this time Alex had cooled off and had begun to enjoy the trip again. We booked in at the backpackers which was quite centrally placed so we could leave Vlad parked up for a rest whilst we got settled in and explored the area for the afternoon. Whilst in the tourist info centre I came across a brochure for Jesters Flat, a horse riding centre, we didn't have time to plan a visit there at this point but I kept the information all the same. The following morning we were picked up by Sean for the Discovery Tour of Margaret River; a taste of the area in one day. Sean and the rest of our group picked us up in a 7-seater, executive Jeep, complete with leather seats and cup holders. First stop of the day, canoeing on the river the area was named for. In order to reach his canoes we headed off-road through the bush, you can tell he knows the tracks like the back of his hand. It was beautiful and so tranquil, we paddled as a group initially and Sean made sure that everyone got photos of themselves on their own camera. Then at the point of the river where we needed to turn around and head back he gave us an order to go in and suggested that we stay at least a couple hundred metres apart and to just enjoy nature, we were in no rush.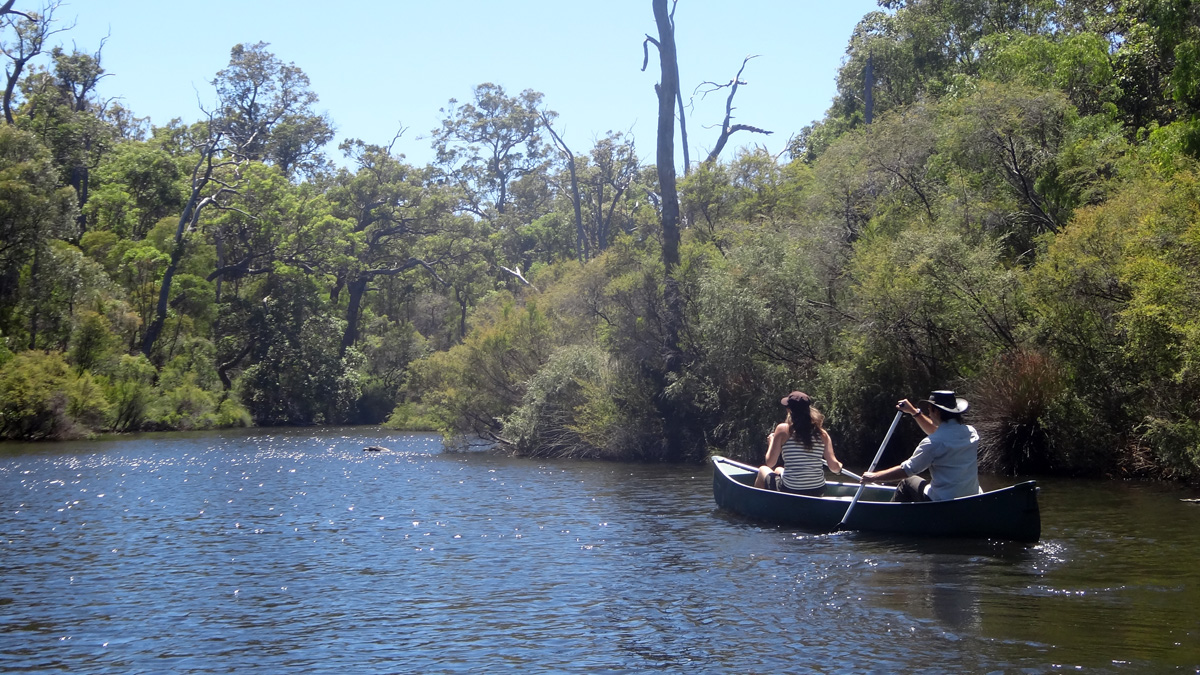 Next stop was a little cafe, Sean's local. We all grabbed a drink to go and had a few minutes chatting before heading to site number 3.
We stopped again by the side of some peppermint trees (Peppy's) which we were invited to bite the leaf of to taste the peppermint. He pointed out it was very important to know what tree is a Peppy before doing that, as there is a similar tree which has a yellow flower and does not taste of peppermint, in fact if you tried to bite that leaf you would end up at the hospital. Noted. After tasting the tree we ducked under the branches and took a seat on some stones bordering a lazy meandering part of the river. Here Sean whipped out a fresh loaf of bread and produced three bottles of golden liquid: locally made honey. There were 3 types for us to try: Jarrah, Marri and something else that eludes me right now. I'm not the biggest fan of honey, I find the flavour very hit and miss, however the Jarrah honey was delightful. I could have eaten the whole pot! Alex could have eaten all three. Sean explained the process used to cultivate the honey in these parts. He was not only a really friendly chap but also knew his stuff.
Time to move on again, next stop 'Fraser Gallop'. This was the winery where we would have lunch amongst the barrels whilst tasting their wines. To the surprise of Alex and myself I finally found a red that I liked, however the downside was that this Cab Sav was also very popular with people in the know. This meant they had but a few cases left, which we could not afford, let alone transport. Saying that, the wine was incredibley well-priced, $35 a bottle, but after much award-winning the price was raised… to $37. Incredible. It has beaten other wines that cost in the hundreds.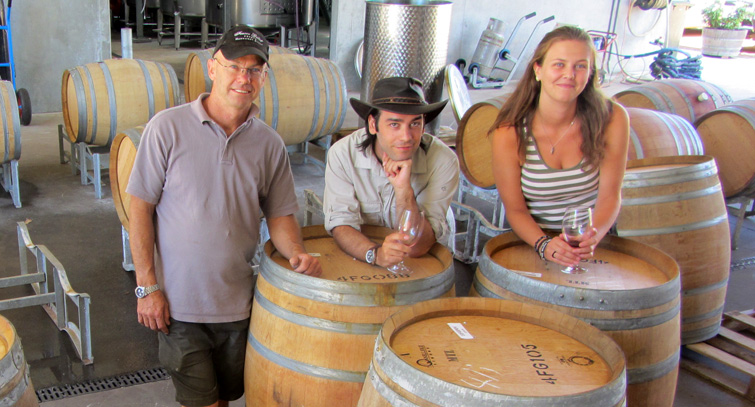 After lunch we headed off for a walk along the coastline, a fantastic spot that is a favourite of Sean's. Got a few more pics before finally heading back to the car for the journey to the hostel. Once back in the car Sean congratulated us for surviving a walk in the most snake populated area! Woohoo!
So that pretty much concludes are time in Margaret River for now. The next stop would be Albany. Now I could keep going into lots of detail, however as most of our regular readers will be aware Alex and I will be making personal appearances in the UK starting on Saturday. Due to this I have decided to summarise the remainder of this entry (and possibly all remaining entries) so that our adventure is finished on the blog before we are on home turf. So…
Next destination, Walpole. Home to the infamous Tingle Trees and Tree Top Walk. So can you guess what we did there? Fun Fact: Tingle trees have a hollow trunk at the base and are so wide that people used to park their cars inside the trees for photos (this was later found to damage and ultimately kill the trees roots so is no longer permitted).
Next stop Albany (visiting for the first time). Fantastic hostel, good couple of days had exploring. Started the day with a trip to Porongurup National Park where we climbed Castle Rock and took numerous photos next to the natural formation known as Balancing Rock. At the summit was a recently built skywalk, giving us yet more amazing views. We finished up the day going to see the Natural Bridge and the Gap in the Albany vicinity.
Final stop before returning to Perth, Bunbury. To be fair we didn't really see much of Bunbury. We mainly used it as a place to stop and kip before the last leg of the journey. However it was awesome timing to go and view the Muppet Movie which had just been released. We laughed a lot. If you haven't seen it, then you should (if you like the Muppets that is… and I'm pretty sure everyone does right?)
Returned car to Perth. Now needed a plan to amuse ourselves for the next couple of weeks until our accommodation and my next job started at the end of January.