It was teeming rain when Carolyn drove us to the transit station on our last day in Noosa. Both Lucy and I were excited and slightly anxious at the change ahead. The continuation of our adventures up the coast was an intriguing unknown. And since our arrival we'd been staying in motels, friend's houses and with relatives; the Southern Cross Backpackers in Agnes Water would be our first 'dormitory' accomodation. We arrived at 18:10 to a waiting minibus, that took us swiftly to the hostel. The greyhound journey had been a fairly tiring 9 hours, so we were looking forward to the usual crash-out on a comfy bed and I must admit I hadn't really thought about the fact it would be a dorm of six. The three dutch lads that greeted us asked us where we were from, but the conversation pretty much ended at that.
The atmosphere immediately following our arrival was uncertain, though not unpleasant. We both agreed that what we needed, were some people to strike off a good conversation with. As there was a barbeque about to light up, the opportunity arose to do just that. All we needed was to buy a drink and we got a hot dog. We sat down with it and got talking to Irish couple Owen and Tia. They had been making their way down the coast from Cairns; working in many hostels although in this one they were taking a break and just paying to sit back and relax. They were also just one of many people we would meet that were headed for Sydney for New Years.
The following day we had a leisurely start, as we'd booked the Scooteroo Tour which starts in the mid afternoon and is pretty much the main reason that many backpackers make a stop of Agnes Water. At the hostel office, we had been warned the previous four or five days had been solid rain and the forecast was grim, but the new day brought with it some stunning sunshine and at 14:30 we were picked up (speaking Rural Aussie Time; at two thirty we were waiting for the bus, at two fifty-five it actually turned up). The tour basically involves riding 125cc chopper motorbikes through quiet rural roads in search of kangaroos. In addition they cheese it up with a complementary flame-decal helmet, matching leather jacket and free temporary tatoo. I passed on the tatoo, but the rest was safety equipment which meant I was supposed to wear it. So I fed it to a passing platypus then resumed looking awesome.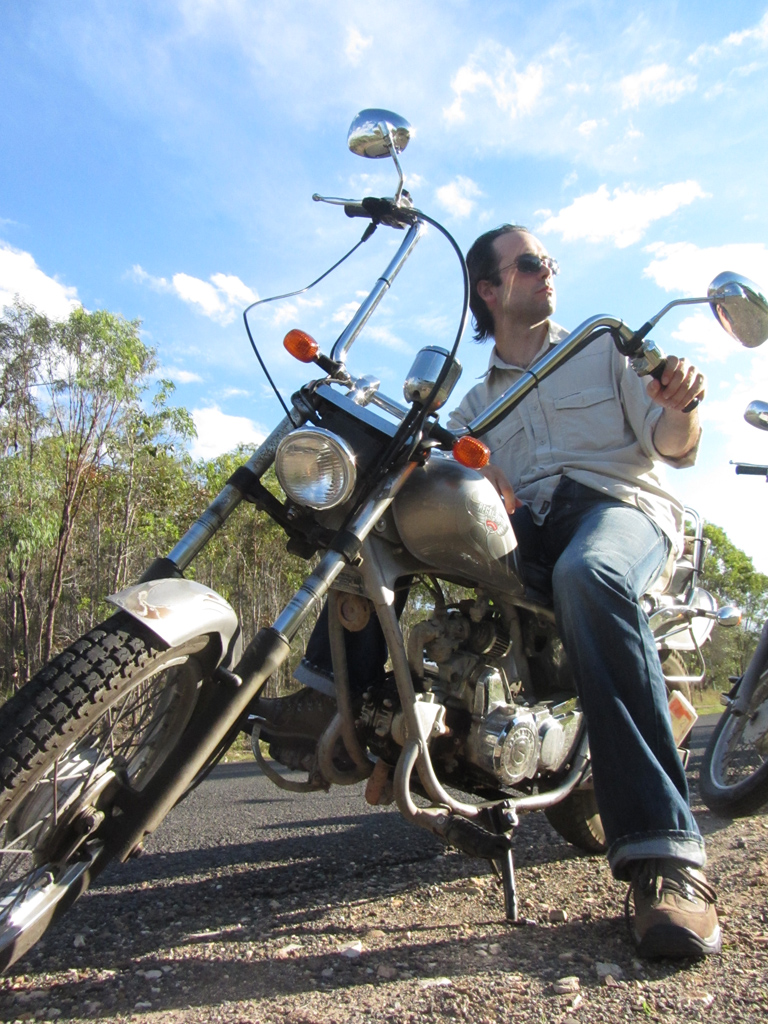 To begin with, the group of thirty or so migrate to a selection of bikes. You pick one that you feel fits your height/experience/affinity to the stars & stripes, and so on. There's a simple ten-minute explanation, then one at a time we were brought forward onto a test track to get used to the handling. Pretty much everyone takes to it quickly, provided they have the rudimentary hand-eye coordination and intelligence required of, say, a squirrel (or a webpage designer). So once everyone had made it to the alotment's gate without spontaneously exploding, we were off. I should state at this point that in order to partake in the activity, you must meet the high-bar requirement of at least a provisional driving licence in "any country in the world", presumably so long as it wasn't fictional or Spanish.* Gradually, with intermittent stops, the speed of our posse increased until we were getting up to a grin-inducing 60 km/hr or so. I always enjoy open speed; in fact much more the open aspect than the speed, and a bike is about as open as it gets. These bikes were also cruisers by posture which I thoroughly appreciated.
We soon pulled over and our guide explained we were about to get into 'Roo territory, so to keep a lookout. And we certainly saw plenty of them, although generally they didn't stick around for long afterwards. Then again, if you'd heard the noise we were making, I doubt you'd do any different. We finished up in the small township of Seventeen Seventy; so named, because Captain Cook passed through in 1770 (the subject had been bothering me for some months, given that Sydney was the oldest settlement and wasn't founded until 1788). A very pretty sunset; unusually for the east coast, over the water; accompanied by some rather overrated but greatly appreciated potato wedges. Owen and Tia had also come on the tour, so we took a few photos for the other of the picturesque end to the day before climbing back on the bikes and heading back to base.
The rest of our time at Southern Cross was mostly spent relaxing around the place. The day following Scooteroo, we had a look around the small outpost that is Agnes Water. It was only a five minute courtesy bus, but it ended up being lunchtime when we arrived so we got ourselves each a burger from the diner on the corner. It was aptly named the Wipeout. Two hundred tonnes of meat, layered on bales of bacon & beetroot within a lattice of lettuce, were compacted into a baked yeast fuselage of two buns you could use to cushion a moon lander. In short, it was quite big. Complements to the chef; and I hope his war against the Olympians is going well.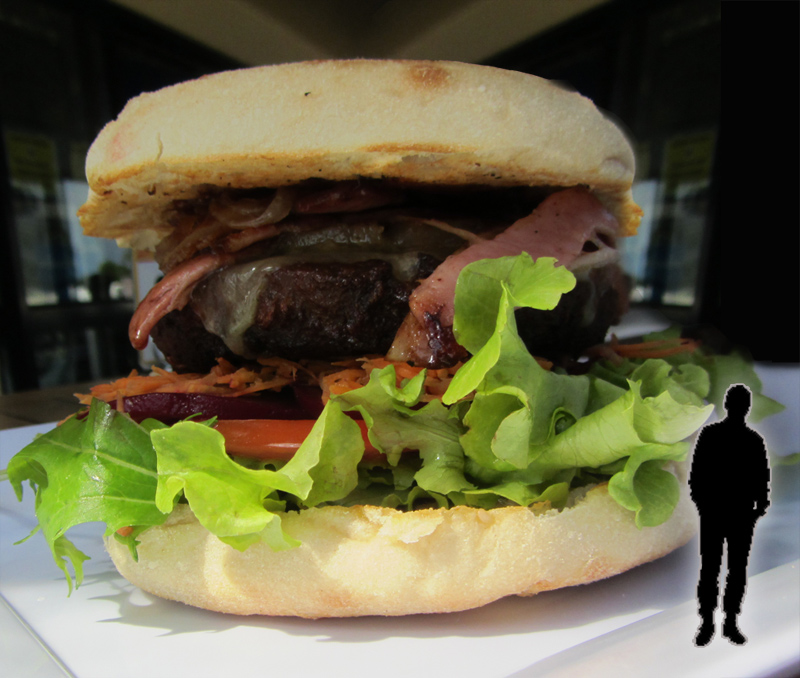 On Saturday we checked out of our room, but as our Greyhound wouldn't arrive until 21:00, we had the day to lounge around and the hostel were quite happy to let us do so at their bar. It gave me a great chance to do some writing and work on my Azimuth Book (a lovely hand-made leather book I acquired in Turkey that I've been filling with sketches and notes on Azimuth. It really needs a better name). Then the courtesy minibus took us down to the petrol garage where the Greyhound arrived in the emerging drizzle. Next stop; Rockhampton!
Southern Cross Backpackers rating: 80/100
(*) It is a well known and irrefutable fact that the Spanish are the worst drivers in the universe; just beating the Kelifusians of Kalimnor, who navigate their streets on tripedal lizards which are not only devoid of directional control, but also any means of seeing where they are going.