Xmas at Tropic Days
Tropic Days was a lovely hostel, easily one of the best we've been to (if not the best). It was definitely a good choice for Xmas, not least because they put on a complimentary continental breakfast with champagne. On Xmas Eve, our friend Eddie offered to cook us a Carbonara, pointing out he was both Italian and pretty good with food. We heartily agreed to the venture and even learned how to make our own Guacomole from an authentic Mexican recipe he knew of.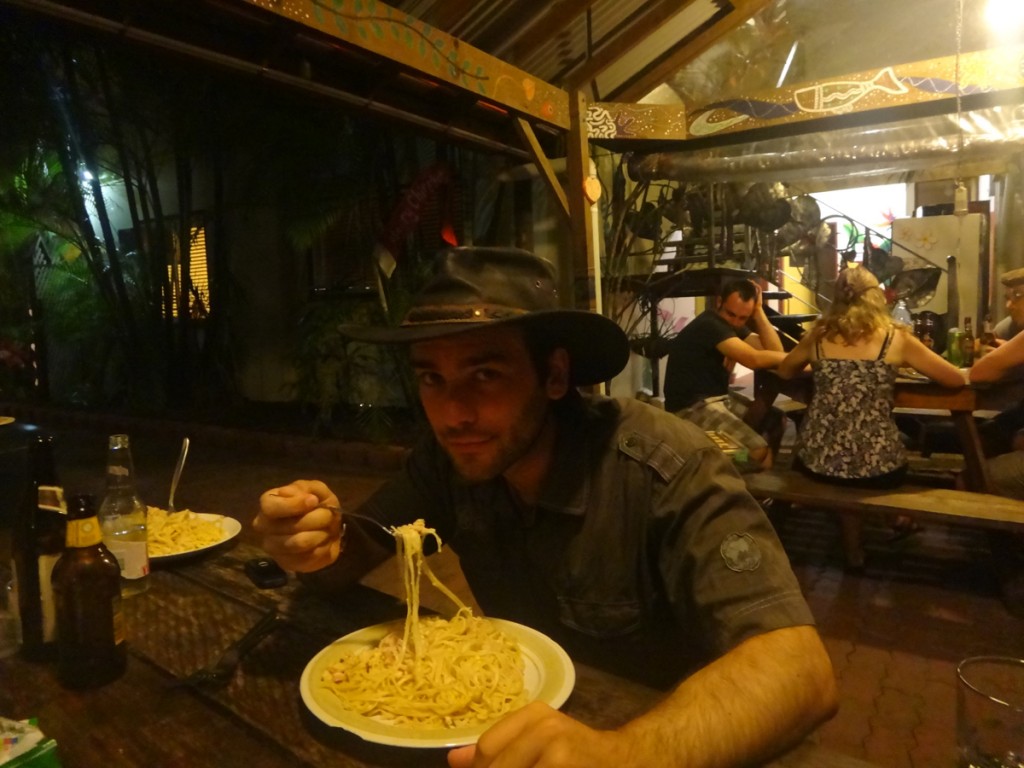 In the evening we gathered in the hostel for drinks. After a few, what began with a few googles on the laptop for Youtube Xmas song videos became a big sing-a-long marathon that covered just about every festive song we could think of, including the Twleve Days of Christmas. Five Gold Rings is always best when drunk.
On Xmas Day (after the fine breakfast), Lucy and I took to the beach for a barbeque; your standard Aussie cliché. But I was at the point of being bored of the Standard Xmas of the northern hemisphere so I actually found the idea of spending it in a tropical summer as refreshing. In any case, Cairns doesn't really have a beach so this was in fact a barbeque on the Esplanade park overlooking the mudflats of the bay, but that doesn't have quite the same ring to it.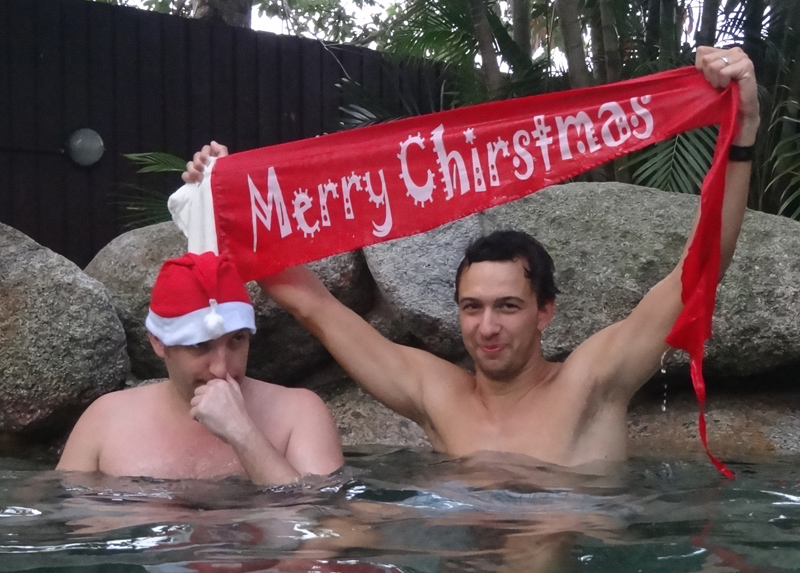 The week between Xmas and New Year began as a busy one, but due to serious storm weather rolling in it was soon a lazy one as one thing after another got cancelled. First my flying lesson, then our kayaking… then our sailing trip for new year! It was a catastrophe. But luckily we were able to get a rebooking for New Year, on the overnight snorkel & dive experience at Reef Encounter.
New Years on the Great Barrier Reef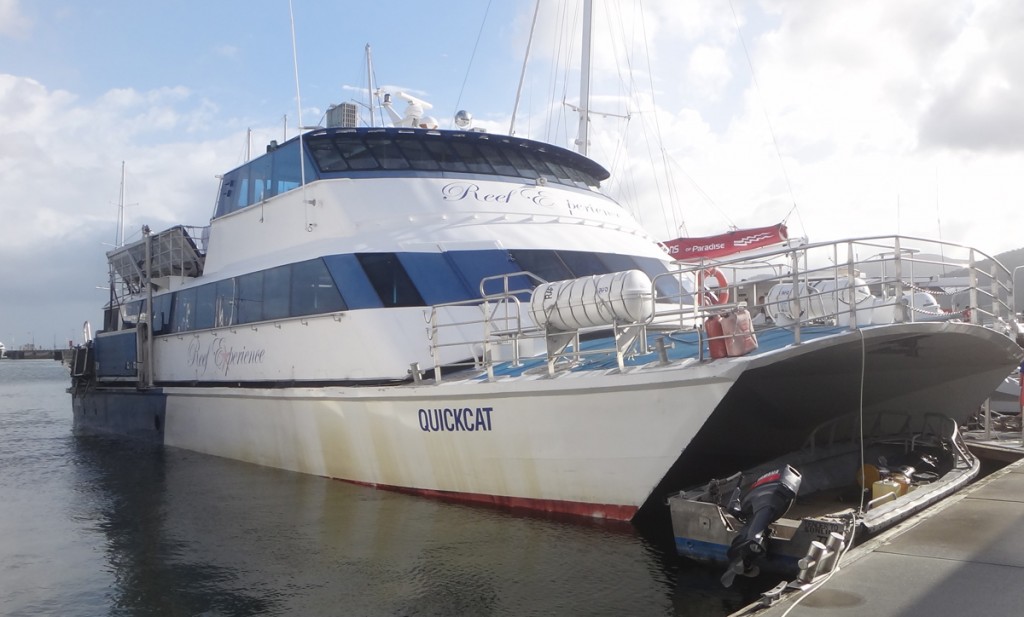 And so it was New Years Eve. While everyone else seemed to be gearing up for a booze-up around the local clubs and pubs, we jumped on the Tropic Days free bus, who took us to the Ferry Terminal. From there we caught our catamaran transfer out to the Great Barrier Reef. The journey out to the Reef was a choppy one; as you might expect given that everything over this period was cancelled due to the weather. I don't normally get seasick, but by the time we stepped onto the Reef Encounter ship itself (a larger catamaran that was essentially a small floating hotel) I wasn't feeling a hundred percent. However, Lucy was much worse. When the first snorkelling session came around, she was in the cabin nursing a queasy stomach. She urged me to go make the most of it though, so I donned our hired Underwater Camera* and all the snorkelling kit (with which we'd been outfitted earlier) before sliding off the back platform into the Coral Sea.
There was something really unsettling about looking down at this point and just seeing hazy blue abyss. Also, I had no floatation jacket like on Lizard Island, so at first I was hesitant to venture from the ship to the dark patch where the reef was; some thirty metres away. But surprisingly it's not that hard to float in a foam wetsuit, especially when lying on your front. So I kicked onward and soon found myself surrounded once again by beautiful coral. Clicking pecks of parrot fish eating away at the stony formations echoed in my ears, as the angry tide pulled everything around like an indecisive poltergeist.
On the second snorkel session I was joined by Lucy, who was feeling more adventurous and optimistic. So we paddled out to the coral again, where I was harassed by a large and particularly assertive blue parrot fish, whose sketch I later filed with the police. I also caught a glimpse of one of the dive group sinking to the sea floor then disappearing through a narrow passage in the rock. Seeing the divers filled me with anticipation and awakened my excitement. I'd always wanted to try SCUBA**, not only because it's probably the closest I'll get to doing a spacewalk. So when our turn rolled around, I was eager to get in and give it a go.
The safety talk and dive instruction was done by a fellow named Macker. He asked us: 'Is anyone here afraid of bubbles?'. To our puzzled reply, he explained that so many people get under, then when they breathe out totally lose it because (and I quote) 'There were bubbles everywhere and I got freaked out'. Calm in the knowledge that I was not a complete moron, I felt I could get the hang of this diving malarky. However in order to proceed with the dive, Macker explained, you have to perform two basic skills you have been taught. Great, I thought, we've been doing this five minutes and I've already got a practical exam to think about. The two skills are however very simple: the first is to clear your mask. This is done with two fingers on the front of the mask, tipping back to look up, then blowing out your nose. The second is to clear the Respirator should it come loose (the thing you put in your mouth to breathe through). The technique for demonstration of this is to take a big breath (one hopes they remember to do this before accidentally dislodging it), then remove the respirator while breathing out tiny bubbles. Place the Respirator back in the mouth then, loud as you can, shout: 'TWO'. This has the effect of pushing the water out the valves.
The fellow that led our dive was called Albie. Lucy, myself and two other fellas assembled for the dive. You know you're wearing Awesome Gear when you need a team of people to help you dress yourself. By the time we had the aqualung on our backs, we were about as mobile on land as a humpback whale; so it was actually some relief to topple forward into the water. Then came the test I had been silently reassuring myself of. True to the precedent set by my childhood education, I was last to be called upon to perform the two techniques, which were actually very easy and done with little effort. Then Albie adjusted my harness buoyancy and I began to slip down beneath the waves to join Lucy and the others.
Sinking down, I kept my hands on the thick anchor line, my other hands adjusting my mask and still finding other hands from somewhere to keep the camera from floating up in my face and sometimes even point it at something. It's an understandably strange feeling to be underwater while still being able to breathe. I was expecting it to be like dreams about being able to breathe underwater, but it was actually quite different. I was aware of the process of the Respirator, yet didn't feel unsettled by it and soon slipped into a relaxed, shallow breathing. I attribute it to a lifetime of doing Darth Vader impressions.
We descended into a strange undersea garden. As we neared the bottom, probably about ten or twelve metres down, a large golden-yellow fish investigated us with a curiosity and boldness that reminded me of the stalker parrot fish from earlier. This little visitor cropped up several times, leading us to nickname it the Chaperone Fish.
Of course, we couldn't at the time. Communication was limited to hand signals underwater, with 'OK' being the traditional, NOT the thumbs up. Thumbs up, when you're underwater, means I want to go up. Definitely not a fun reason to prematurely end your dive. After a while I began to get used to the camera and to moving myself around in the aquatic medium. At one point, I was even out to the side from the rest of the group, filming their procession like a documentary cameraman. Near the end, Albie demonstrated a somersault, then motioned us all to try. The two guys made it look easy. Lucy went over and managed to pull it off pretty well. I then realised it was my turn; and there's no stalling for time underwater. So I went over. It was the closest I came to getting into trouble, as I didn't quite make it: I fell short of my full leg height, scraping my knee on the coral-littered floor and losing balance. Albie motioned me 'OK?'. I gave him the OK, despite that I couldn't see very well, salt stung my eyes and my mouth somehow had let in a bit of water. But I carried on and had soon sorted myself out. Just in time for us to begin the slow ascent back to the surface, incidentally.
Back on the ship, night set in and things seemed to actually get quieter. Back to the Future III was on TV, Lucy was reading on her Kindle; it was starting to look like the kind of New Years you expect to have if all your plans have fallen through. An Aussie guy named Wade then said to me: 'What would your relatives say if they saw you here, on New Years on the Great Barrier Reef, watching TV?' That was all it took to get me to the bar and chatting away to the other guests, who started to gather as we did so***.
We got drinking some beers, then some wine. We wished a happy birthday to a Kiwi crew member Johnny while the ship's cook was strumming his acoustic rendition of Hit Me Baby One More Time. I found an untapped talent with the Digeridoo. Party Cat turned up**** and by midnight the back deck was as lively as you'll ever find a back deck to be. Lucy and I ended a good night in the hot tub on the ship's bow, admiring the vast uncountable stars of the southern hemisphere.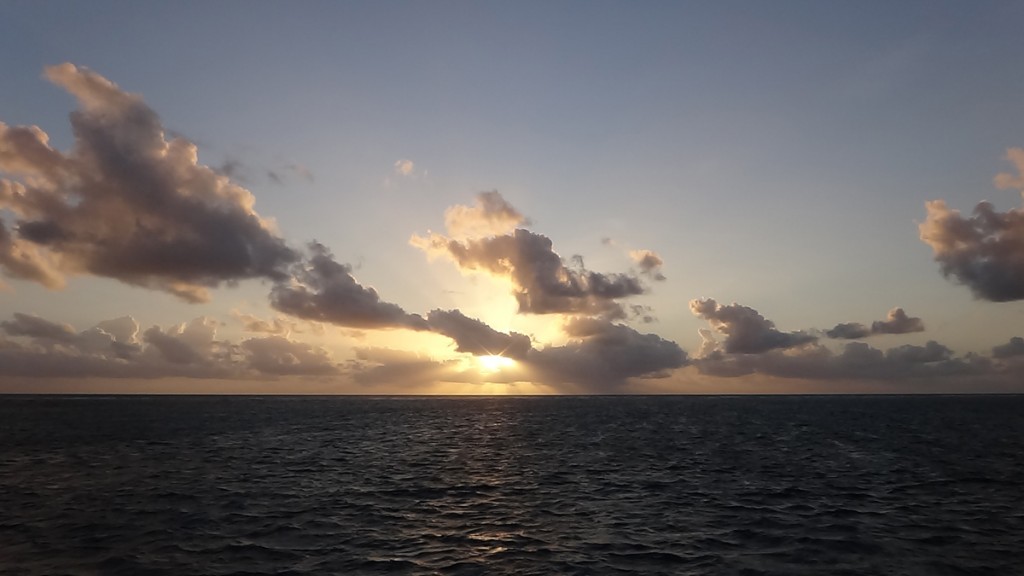 I awoke early on New Years Day to catch the first sunrise of 2012. It was a moment of reflection, as such moments often are. I found it incredible that in just a few days we'd be in the searing desert heart of the country. We'd been in Australia for nearly four months. How long until, how long it's beens. A few of the crew were awake and a little surprised to see me on deck at six am.
I tried to go snorkelling again in the morning session, but the dive (possibly the somersault) seemed to have left water in my ears and I had to go back to the boat. Lucy's sickness had returned with the morning so she didn't go out either. We had another delicious meal (all the food they put on was beautiful) and Lucy even got hers in a takeaway tub as we left the ship. Meeting up with the catamaran that had brought us, we stopped at another reef on the way back to Cairns. Lucy had now decided to try some sickness tablets and was feeling vastly better, but we were both content to lounge around on the boat's top deck instead. As we headed back to Cairns over waves that were nearly a rollercoaster, I got talking to Wade some more; who it turned out wasn't just an aspiring writer but also a big fan of Douglas Adams too. Unfortunately I didn't have anything to take a contact down for him. If he publishes anything, I'd love to hear of it.
When we got back to Tropic Days we slept for about a day, we were so tired. Then come the next day we caught the last courtesy bus into Cairns, to wait for our Greyhound. It would arrive just after midnight. Our destination: The Red Centre, Alice Springs!
(*) - To explain: we had two underwater cameras. The one we'd bought, which goes down 5 metres; and one we hired, which goes down 40 metres so we could take it on the dive. As I hadn't used the latter before the trip, I spent all the snorkelling sessions getting used to using it. Net result: due to a goof with getting the photo CD from the hired camera, we currently have no pictures for the underwater section of this trip! Hopefully we'll catch up with it soon; when we do, I'll update the entry.
(**) - Self-Contained Underwater Breathing Apparatus, just in case you were wondering.
(***) - Although Back to the Future III is still an awesome film and I make no apologies.
(****) - I don't recall her actual name, but she was basically this in a bikini.